About Jerome Translations
Our Company
Jerome Translations is a globally oriented translation service provider catering to the needs of business and institutional clients around the world.
The clients we serve are those operating in English, French and other European languages.
The Jerome team has experience in many sectors of the business world, and will translate your message to a discerning audience in a way that reflects your unique capabilities, qualifications and concerns.
Inspired by Jerome
Jerome Translations derives its name from St. Jerome, the patron saint of librarians, scripture scholars, students, translators and interpreters.
[ + ] more
Jerome's unique knowledge of Greek, Hebrew and Latin made it possible to translate the words of the Old and New Testament and create one Latin bible, known as the Vulgate Bible. For over a thousand years, the Vulgate Bible was the definitive edition of the most influential text in Western European society. Aside from its use in prayer, liturgy and private study, the Vulgate served as inspiration for ecclesiastical art and architecture, hymns, countless paintings, and popular mystery plays.
[ - ] less
Here at Jerome Translations, the types of projects we are assigned are somewhat less ambitious than translating sacred texts. However, we are inspired by Jerome to consider the lasting impact of our words.
We approach all our projects with the same passion, dedication and commitment that characterized so much of
St. Jerome's work.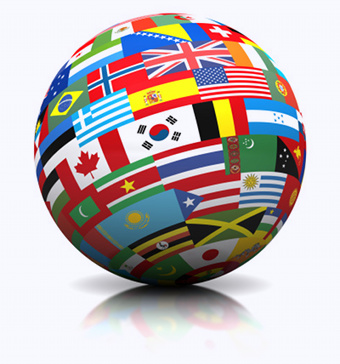 Mission
Statement
To deliver high-quality, professional translation services to business and institutional clients in Canada and worldwide.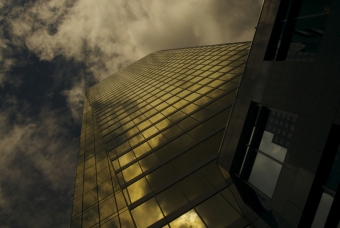 Vision
To be the language service provider of choice for businesses and institutions working to and from English.
We turn linguistic barriers into bridges for cooperation.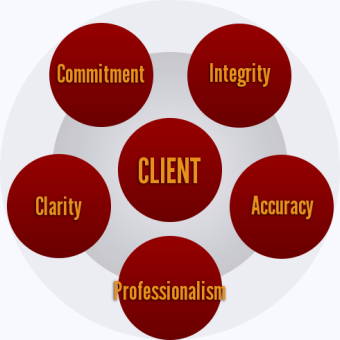 Client-Centred
in everything
we do.
Our Core Values
Integrity
Accuracy
Professionalism
Clarity
Commitment
Our Team
Jacqueline McClure-Zerbe, BA, MBA, C. Tr.
Owner and Editor-in-Chief
[ + ] more
Born and raised in the bilingual city of Montreal, Canada, Jacqueline was educated in French and English.
She also lived and worked in France for a year. Her interest in languages is coupled with a love of learning about all areas of human endeavour.
A Certified Translator with the ATA and an Associate Member of STIBC, Jacqueline is a hard-working freelancer with a knack for business administration. Her broad industry experience includes over 15 years as a businessperson and systems consultant, with specialized hands-on knowledge of marketing, finance, human resources and IT. Industries in which she has worked directly either as an administrator or consultant include consumer products, financial services, utilities, agricultural products, computer software, transportation, education and public relations. Her passion for business development has been applied to diverse enterprises in Canada, France and Poland.
Jacqueline's translation experience extends well beyond business documents. It includes legal documents, technical manuals and all flavours of corporate communications.
In addition to her core languages (French and English), she is able to copyedit work translated from her other working languages into English. These working languages include Spanish and Polish. Because her range of working languages continues to grow, she is able to collaborate with many other translators on the translation of European languages into English or the translation of English into other European languages.
Send us a message to find out whether your language combination is one that we currently support.
[ - ] less
Our Associates
Jerome's staff are supported by a highly qualified team of associates. Our associates are carefully screened and monitored to ensure adherence to our high standards and core values.
[ + ] more
All translators working for Jerome Translations translate into their mother tongue and within their area of industry specialization. This ensures that every translation is both accurate and completely natural. We assign projects to teams in such a way as to uphold our clients' professional image, ensure continuity and enhance the effectiveness of their communications.
[ - ] less
What Makes Us
Different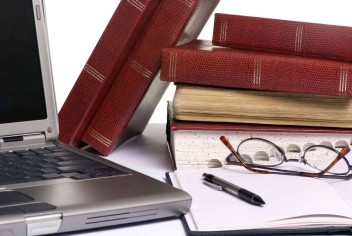 Business Experience
The founder of Jerome Translations holds an MBA from McGill University and garnered a wide range of industry experience in Ontario and B.C. prior to starting work as a translator.
[ + ] more
The work our company produces, whether it be translation or copyediting, is backed up by hands-on experience within multiple industries. These industries include: management consulting, information systems, financial services, transportation, logistics, telecommunications, consumer product marketing, agricultural products, utilities, education and public relations. This allows us to avoid the pitfalls of general translation and deliver a text that is useful and appropriate for specialized audiences.
[ - ] less
International Experience
Having worked on both sides of the Atlantic, Jacqueline holds dual citizenship (European/Canadian) and has mastered the nuances of US, Canadian and British English.
[ + ] more
Based on her international experience, Jacqueline helps ensure that the translation or copyediting process is sensitive to the cultural aspects of the geographic region or locale to which the translation is directed.
The staff and associates of Jerome Translations also bring international experience, helping us produce polished, flawless texts that are always tailored to our clients' unique needs and target audience.
[ - ] less
Education
Armed with a broad liberal arts education topped by a business degree from McGill, our founder has been applying her well-honed research skills and a critical eye to all the work she performs and/or supervises.
[ + ] more
In addition to highly developed communication skills in English, Jacqueline is conversant in four other European languages.
Jerome Translations staff and associates are not just polyglots and wordsmiths, they possess university degrees qualifying them to carry out technical translations and copyediting in their area(s) of expertise.
[ - ] less
Client Satisfaction
Jerome Translations has a solid track record of exceeding client expectations for quality, reliability and consistency. Our passion and dedication shine through in every assignment we undertake.
[ + ] more
We are detail-oriented and always committed to presenting your ideas in accordance with their original meaning and intent. We know that your reputation is riding on us. All our translators and copyeditors demonstrate their dedication to quality, reliability and total customer satisfaction. We will not rest until the client is satisfied, and encourage feedback from the client in the form of client satisfaction surveys to help identify ways to improve our services.
[ - ] less
Quality Control
All documents are reviewed by a certified translator prior to final delivery to the client. A quality assurance checklist is used to ensure that the target text is complete, accurate and free from misinterpretations of the source text and that appropriate terminology has been used throughout.
[ + ] more
All translators working for Jerome Translations translate into their mother tongue and within their area of industry specialization. This ensures that every translation is both accurate and completely natural. We also maintain databases of terminology used by repeat clients to ensure consistency within each document and from project to project..
[ - ] less
Customization
Repeat clients benefit from a high level of consistency, which we ensure by using style guides and terminology databases tailored to each client's industry and/or area of expertise.
Responsiveness
We are Smartphone-enabled, so regardless of time differences, you will receive a response to your request within a maximum of 12 hours, 7 days a week. If you happen to be in North or South America, then most responses will be within 3 hours of your request.
Community Partnerships
Jerome partners with a variety of organizations to deliver a continually improving level of translation services. Our goal is to contribute to improved communication and elimination of linguistic barriers in those areas where we have experience and shared interest.
American Translators Association

ATA, founded in 1959, is the largest professional association of translators and interpreters in the U.S. with more than 11,000 members in 90 countries. ATA's primary goals include fostering and supporting the professional development of translators and interpreters, promoting recognition of their societal and commercial value, facilitating communication among all its members, establishing standards of competence and ethics, and educating both its members and the public.
Visit Website
Society of Translators and Interpreters of BC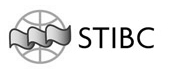 The Society of Translators and Interpreters of British Columbia (S.T.I.B.C.) was incorporated in 1981. It is a non-profit professional association and an affiliate of the Canadian Translators, Terminologists and Interpreters Council (CTTIC), the umbrella organization for the associations of translators and interpreters in British Columbia, Alberta, Saskatchewan, Manitoba, Ontario, Québec, New Brunswick, Nova Scotia, Newfoundland and Labrador, the Yukon and Nunavut. CTTIC is a member of the FIT (Fédération Internationale des Traducteurs)
Visit Website
Chambre de commerce francophone de Vancouver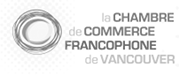 La CCF Vancouver demeure l'organisme par excellence pour la communauté d'affaires francophone de Vancouver qui cherche à se rencontrer, discuter, socialiser et s'aider mutuellement. Notre réseau de contacts peut aider quiconque fraîchement arrivé en Colombie-Britannique ou tout autre entrepreneur désireux de faire affaire avec les francophones et de profiter de ce marché.
Visit Website
Careers at Jerome
Interested in joining us?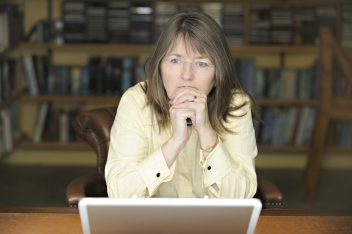 At Jerome Translations, our translators take pride in their work and - just as importantly - are rewarded for superior performance. By working with us, you will be part of a reliable company that honours its profession and values its translators. If you are selected to join Jerome Translations, you will grow in your skills and abilities as a translator, while being rewarded for the outstanding results you consistently achieve.